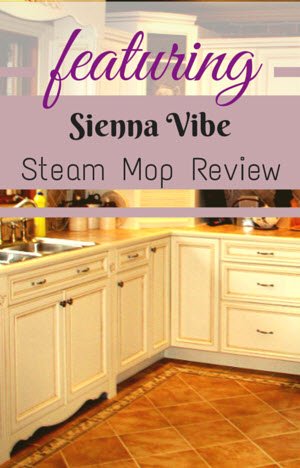 Rating:
4.1

Reviewed by
Erica
While putting the finishing touches on my
Sienna Vibe steam mop
review, one thought kept running through my head – this little bargain seems like an undiscovered gem.
It's one of the cheapest models you can buy and made by a company that might not be familiar to you (they're a European company) but I have to say they've done a really good job.
If you're looking to mop faster than you can with a bucket, want to keep the price under $50, and like the idea of sanitizing your floors without chemicals, go over these features and we'll figure out if it's right for you.

It's not the perfect match for everyone but I could easily see this as a great option for someone in a small apartment or someone on a budget looking for their first steam mop. This would be a great gift for a young adult who has just moved out on their own, too.
Table of Contents
Click ahead!
Floor Types & Carpets / Mop Head Type / Water Tank & Steam / Controls / Attachments & Accessories / Cleaning Solution Options / Dimensions / Consumer Reviews & Ratings / Pros / Cons / Price / My Overall Review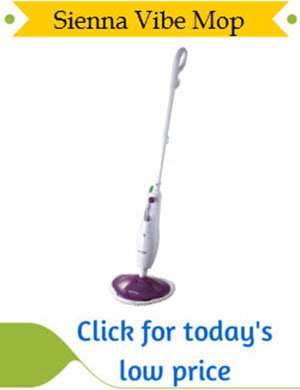 The Sienna Vibe steam mop is an electric stick mop with a removable handle so that it converts into a hand-held steam cleaner. There are no hoses or attachments, though. You can work the base without the thin part of the handle and it will do vertical surfaces like your mirrors and windows. Someone said they even use it on their oven!
The box includes:
Handle pieces that need to be assembled
2 reusable, durable, Microfiber cleaning pads
Floor Types
This mop will work on all sealed hard floor surfaces but make sure to check the care instructions for your floor type before use.
Because it has an included carpet glider you can also use it to refresh your carpets. Don't confuse this with steam cleaning them – it does not extract dirt from the carpet. The mop head and pad don't actually touch the carpet. It only releases steam over the fibers to get rid of odors and puff up the carpet a bit.
Sienna Vibe Mop Head Shape and Size
The mop head is triangular but since the nose isn't very pointed it won't reach into corners. You're going to have to get this with a rag but that's the case with most models.
In fact, I've been pondering the purpose of a triangle mop head. I would have thought it was specifically intended for corners but none of them seem to be able to do that so what's the reason for the shape compared to a rectangular one? I can only guess that it has to do with the way the steam is disbursed.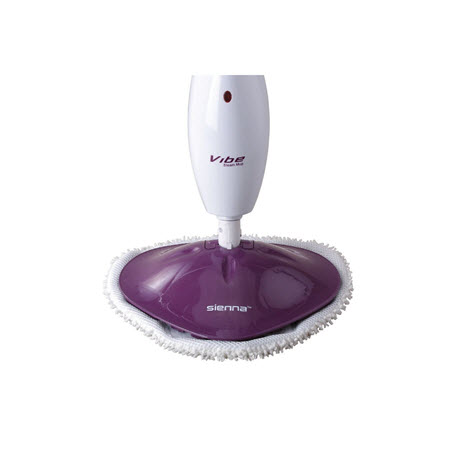 The mop head rotates 180 degrees so you can swing around corners and furniture legs. Reminds me of my Dyson vacuum and I love that feature so much that I don't think I could go with anything that didn't rotate like that for cleaning floors.
Consumers who have written reviews on the Sienna Vibe note that the floors dry fast and that the mop doesn't leave behind a lot of water.
The microfiber pads are attached by Velcro. All you have to do is put the pad on the floor and place the mop on top of it to attach. Very simple. They are machine washable and hold up well.
The head itself is 11 inches wide at the widest part which is decent coverage area. It also has a slight vibration which is intended to help remove dirt, grime, scuff marks – whatever's stuck on your floor – without you having to push down – which is good because the handle doesn't feel sturdy enough to do that with.
Water Tank & Steam
The Sienna Vibe steam mop operates at 1500 watts and heats water in 2-3 seconds to 212 degrees. That's impressive for this price. At that temperature, holding the mop in place 8 seconds should sanitize that spot.
The water tank holds 10 ounces of water and is see through so you know when you're running low. Oddly, the included measuring cup only holds 5 ounces of water so you have to fill it twice to fill the tank. (I'd just run into that in my review of the Eureka Enviro – what is it with measuring cups that don't equal the tank size?!)
Regardless, it's not as big an issue as I thought it was for the Eureka because the cup used for the Sienna has a built in funnel rather than a separate piece and the tank reservoir is higher on the Vibe so you don't have to get on the floor in order to fill the tank. It's not a removable tank, though, which I find more convenient but, again, for the price this is a minor point.
A full tank should last you about 20 minutes. To continue mopping all you have to do is pour in more water.
Settings and Controls
There really are no controls to worry about on the Sienna Vipe steam mop. Once you've poured in the water, you plug in the unit to start it heating and an indicator light will come in when the water is ready. It takes just a few seconds.
Once the mop is ready, pulling the handle back will activate the steam function. To stop, just put the handle back in the upright position and the steam stops.
No on/off button, no dial controls – that's it.
Some product descriptions are inaccurate and describe the mop as having variable steam control and 3 settings. It does NOT. I've been through the manual, seen the mop in action, looked at all the images – there are no buttons and no additional steam settings.
The handle is very comfortable and there is no trigger you have to hold or pull to work the mop. There's very little hand strain with this type of set up and it's certainly the preferred handle style. (The ones that require you to hold down a trigger can cause your hand to cramp up during use.)
Extra Attachments
The only attachment is the carpet glider and since it comes with the unit you won't have to spend extra on it. There are on other attachment options for this model.
However, it doesn't come with a cooling pad and you might want to find something to place under it while you're letting it cool down. It could harm your floors to leave it sitting on them after use while you're waiting for it to cool and be put away.
Cleaning Solutions
You won't need to (and actually shouldn't according to the manufacturer) use any chemicals in the Sienna Vibe. The steam does all the work. At most, you might end up using distilled water if you live in a hard water area.
Sienna Vibe Steam Mop Dimensions and Storage
Height: 44.5 in
Width: 11 inches
Depth: 9 inches
Weight: 5.5 pounds
Here's one of the downfalls of the Vibe – the cord is only 16.4 feet long. That's a good 6-7 feet shorter than some other models. The shorter the cord, the more often you might have to unplug it from on place and plug it in somewhere else to keep mopping. I've easily got over 1000 square feet of tile and I hate it when I have to go through that routine. A cord that short wouldn't even get from one end of my kitchen over to the eating area.
The mop itself is very compact and stands upright without wobbling. Just store it in a closet when you're done. If you have limited space, you could release the handle in order to store it as two, shorter pieces.
There's a hook for the cord which has to be manually wound around the hooks when you're done.
Pros
Can be used as a hand held steamer for both horizontal and vertical surfaces
Lightweight
No trigger you have to hold down, no pumping required to spray
Very low profile to get under cabinets and furniture
Heats quickly
Nice microfiber pads
Low price
Compact
Cons
Handle is assembled from multiple pieces and doesn't feel like it could hold up to being used with additional force so you don't want to push down on it to get dirt off the floor – you just need to let the steam do its thing
Consumers couldn't tell if the vibration was doing anything but it cleaned well anyway
Small water tank requires frequent refilling
No variable steam control
No included cooling pad
Sienna Vibe Steam Mop Price
Dirt cheap. I think that covers it. (Ha ha – dirt, mop…).
If you've been comparison shopping other models you know this is at the low end of the scale.
There are a couple of different listings on Amazon with different prices but the listing I found with the lowest price is even cheaper than the price showing on the distributor's site.

Consumer Reviews and Ratings
Remember I said this seemed an undiscovered gem? That's because it doesn't have as many reviews online so it might escape your attention if you tend to glance at the number of stars products have before you consider taking a closer look. That's just because it hasn't been on the market long enough to gather them.
The majority of consumers who have purchased and used this mop really like the value they got for the price AND the performance of the machine itself.
My Overall Review
At the beginning of this Sienna Vibe steam mop review I said this model wasn't for everyone. There are a few things you give up in exchange for the low price.
If you have a lot of floor to mop, the short cord and small water tank might be a hindrance. I have over 1000 square feet of tile to cover just on one floor of my house and don't want to have to refill any more often than necessary.
The ability to use the base as a hand held option is very cool but it's the bulkiest set up you could have. There are other combination floor/hand held models that have lots of attachments to help you clean like a squeegee attachment. There are no fancy features here and moving the mop around by the base to do mirrors is a tad awkward.
If you have a mix of flooring types, variable steam control lets you adjust the amount of steam applied to surfaces that might be more sensitive to heat. That's not an option with the Sienna Vibe.
If these differences are important to you, then another model might be a better choice but if not, the Sienna Vibe is a real bargain.