Steam Mop Reviews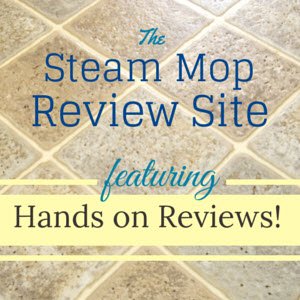 You've come to the right place and we've been hoping you'd find us! We're the steam mop reviews site with hands on testing.
No one gives us mops to test – we buy them and put them to work on our own floors (and I've got all the elements needed for such a thing – kids, a dog, too many bathrooms, and what seems an endless supply of tile and grout…).
Why would we do this? To save you time and money, to provide you honest and unbiased reviews…and to make cleaning floors seem less a chore for us.
Chances are you're struggling to choose the best steam mop for your home and plowing through one site after another trying to find answers to your questions. You'll find those answers here (and if you don't, just ask).
Our Steam Mop Reviews
Many of our reviews are written after personally testing the product in our own home. While you can find opinions about almost any mop online (shopping sites, blogs, consumer research sites) the fact that we have used multiple products, different brands, and products with different features gives us the unique ability to truly compare and contrast every steam mop.
To us, it's not enough that a mop performs well. We want to help you understand whether or not a certain feature is necessary, whether a higher priced steam mop is really worth the extra money, whether or not a mop will do what YOU need it to do and – best of all – if one really does do a better job than another. We know every person has different needs and expectations and that none of us wants to waste money buying the wrong product.
Check out our full list here: Steam Mop Reviews
Our 3 top recommended steam mops at the moment:
And for the best "budget buy" take a look at the Sienna Vibe steam mop!
If we haven't taken a look at a model you're considering and you aren't in a huge rush, we'll take requests. Just add a comment on a post or use our contact form to send us a note. We've written about some Bissell, Haan, Hoover, Shark and Black and Decker models and will soon be taking a look at Oreck.
How We Test
You'll see in each review how the mop was tested in a real life situation (if it was – this is an on-going process). Our method involves:
Evaluating the ease of use
Testing how well the mop worked on cleaning floors by wiping the floor afterwards with a brand new, white Magic Eraser sponge
Gauging the comfort of the handle and/or trigger
Determining the amount of steam generated
Seeing how dry (or not) the floor is after use
Trying to clean up different kinds of dirt, grease, and food
We also read the product manuals looking for "hidden" rules or costs that would impact your use of the mop.
Each mop then receives a rating based on how well it did compared to the others we've tested.
Compare Steam Mops
Have more than one on your list of potential buys? Compare steam mops using our table of the most critical features of each product we've reviewed. It's not exactly the prettiest thing in the world but it's functional.
Each time we publish a new review we'll add that mop and it's features to the comparison table. This gives you a quick way to filter down to a smaller set you might want to research. The list includes a link to our review for each model so you can jump right to the one that's the best rated or the one that has the longest cord (whichever feature is on the top of your "must have" list).
As a tip – the list of features across the top of our table are the things we consider the most important to compare when you're stuck making a choice between a number of steam mops. If we don't have an article about a mop you like you could gather the same information and come back to our table to see how it stacks up. If you can't find a piece of information about the mop let us know and we'll dig it up for you.
See our table here: Compare Steam Mops
Sanitize, Save Time and Money
There are two main reasons consumers buy a steam mop:
To save time on mopping
To sanitize their hard floors
I'd add a third that isn't often mentioned and that is to save money. A steam mop uses less water than a regular mop and can be used without cleaning solution all of which keeps dollars in your pocket over time – and helps the planet, too!
We've compared the costs of a steam mop vs a regular mop and suggest you do the same if you need any further reason to justify your purchase.
Not all mops clean the same, though, and some have hidden costs for filters and mop pads. Those are some of the things we cover in our reviews so there are no surprises once you've made a decision.
Consumer Education
Besides reviews, we publish articles meant to help educate consumers on the things to consider when buying a steam mop. As we've mentioned, they're not all the same and, of course, that's what leads to the confusion about which one you should buy.
Any of these questions sound familiar?
What does it really mean when it says a steam mop will sanitize my floors?
Is steam safe for my floor type?
Which brand is the best?
How is one steam mop different from another?
Will my floors dry more quickly?
Can a steam mop handle things like spaghetti sauce or dried on jelly?
Do steam mops vacuum, too?
Will it deep clean my grout?
These are covered in our Things to Know section.
We hope you find our steam mop reviews provide you with all the information you need to make a choice you can be confident is the right one for your own home and budget.
Sincerely,
Erica Ryan