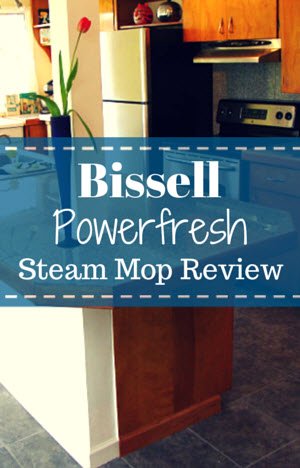 Rating:
4.4

Reviewed by
Erica
In the majority of the
Bissell 1940 PowerFresh Steam Mop
reviews I read, consumers loved this product but there's one thing they're missing – they're never going to use this to sanitize their floors.
Why? Because the generated steam does not get as hot as some of its competitors and, therefore, it takes longer to sanitize than others. You have to leave it in one place for 15-20 seconds to fully sanitize JUST that one spot. This is twice as long as similar models.
That means it would take 2 ½ hours to mop and sanitize a 10 foot x 20 foot space. You're not going to do it. Not regularly, anyway.

Now, for simple mopping, it does have some benefits and I'll get into those in my review but keep in mind that if you're looking for something to eliminate most of the germs found on household floors, this isn't the one you want.
Table of Contents
Click ahead!
Floor Types & Carpets / Mop Head Type / Water Tank & Steam / Controls / Attachments & Accessories / Cleaning Solution Options / Dimensions / Consumer Reviews & Ratings / Pros / Cons / Price / My Overall Review
This is a steam-only floor mop. There is no suction for vacuuming and no attachments you can use to clean counters or vertical surfaces. You do have to sweep or vacuum before use. If you don't, you'll have to afterwards because you'll find bits of debris that have been pushed around by the mop but the floors will be clean.
It comes with:
The mop
1 soft microfiber cleaning pad
1 scrubby microfiber cleaning pad
2 scent disks
Floor Types and Carpets
You can use the Bissell 1940 on hard floor surfaces that are SEALED. This includes:
Tile
Vinyl
Laminate (check with your manufacturer or read your flooring warranty first – they probably recommend you do not use this on laminate even though Bissell says it is safe to do so)
Marble
Stone
Hard wood
It can also freshen carpets but only if you buy a separate attachment.
Mop Head Type
The mop head is rectangular and a generous 12.5 inches wide. It's low profile and will fit under most cupboards.
It does reach into corners and the pad is puffy enough that with a little wiggling around you'll get most of the debris in the corners. You can certainly get right up along the edge of your baseboards.
The pads themselves are made from a special brand of microfiber that is antimicrobial so you don't get that yucky, old mop smell from them. They're also machine washable.
The soft pad is the one you'd use for regular use and the scrubby pad is for tough jobs although using the scrubby one for daily use shouldn't damage your floors anyway.
The pads wrap around the mop head and are held in place by elastic around the pad edge. There's a small fabric, tab in the back that you can use to pull the pad off after use so that you don't have to touch the part that's still hot.
The head does swivel and I love that feature. You can whip around your furniture or corners more easily.
The pads are pretty thick and that extra cushion helps get into any grooves and patterns you might have in your flooring. Vinyl floors with little channels and slightly lifted patterns, for example, are no problem for the 1940.
The PowerFresh name comes from the fact that there's a little pocket on the inside of the pads where you can tuck one of the two included Spring Breeze fragrance discs. As you mop, the steam heats up the disc and releases a reasonably decent scent. If you like to have your home smell clean when you've cleaned then you'll appreciate these but they don't last, you have to buy replacements and at that point it becomes a pain. You probably already have a way to make your home smell good and this probably isn't going to replace that.
Oddly, there's no included cooling pad so once you're done you've got a heated unit that you don't want to leave sitting in one spot for any length of time so you're going to have to find a safe place to set the steam mop when you're done until it cools.
Flip Down Scrubber
The Bissell 1940 has what they call an EasyScrubber and they advertise it as being able to clean grout but I think that needs some clarification.
The opinion shared by many consumers is that it doesn't clean grout the way you think. It's really handy and you simply step on the head (located at the back of the unit) and it will scrub any sticky spots to remove really stuck on dirt.
It will reach into your grout but at most it's going to remove whatever sticky residue is in the grout and not the dirt and discoloration that has built up over time. For that you're going to need a lot more scrubbing, a spin brush, and/or some concentrated steam with more pressure.
There's one steam vent in the bottom side of the unit. The steam gets disbursed through the pad to reach your floors.
Floors are going to be nearly dry on the lower steam settings but might take a few extra minutes to dry with the higher steam setting.
Bissell just published this video showing the PowerFresh against a popular Euroshark model and I think it's worth checking out. You can see they've got the scrubber pad attached vs. the soft pad and assuming all other criteria in the test are the same, the PowerFresh certainly won hands down.
Water Tank & Steam
This steam mop has only one tank and that's for water. It holds 15 ounces which should last you about a half an hour and will finish more flooring than you'd think unless you're sanitizing. In order to sanitize your floor you'll need to hold the mop in place for 15 seconds.
Bissell 1940 Settings and Controls
You'll find this is super simple to operate. Just plug it in, wait until the indicator light tells you it's ready (about 30 seconds) and then select one of the three settings – low, medium or high. The unit emits more steam at each of the increased levels.
The setting buttons are on the front of the lower body which does mean bending over to reach them even if you're short like me but a small inconvenience.
What I really like is that there's no trigger to hold in place while you're mopping. That's a lot less hand strain and makes it more comfortable to complete the job.
There's no on or off switch, though. You have to unplug the unit to turn it off. That means if it's plugged in, it's hot so just be aware and don't leave it sitting in one spot too long.
Attachments
The only other attachments you can buy for the 1940 is the carpet glide. The manual does talk about how to use the carpet glide but it's not always included in the box. You have to read the product description carefully wherever you're buying it to see if they specifically mention it as part of the package contents.
If you buy one that doesn't come with it, the price separately is about $8.
The carpet glide lets you use steam to freshen up your carpets and get rid of stale odors. It doesn't clean your carpets, though.
No Cleaning Solutions
None! As in you're not supposed to use cleaner solutions at all with the Bissell 1940. I think that's why they have the scent discs as an option. It sort of makes up for getting that fresh, clean smell you get from some detergents.
Dimensions and Storage
Height: 43 inches
Width: 13 inches
Depth: 9.5 inches
Weight: 6 pounds
The power cord is 23 feet long. Don't underestimate the role the power code plays in whether you like this mop or not. If you have a large area to clean and 23 feet will cause you to change plugs in order to clean a floor, you'll remember how much you hate that every time you use it. This is a pretty generous length but measure your vacuum cleaner cord to get a feel for how this compares and then decide if it's a sufficient length for you.
The cord wraps around a hook at the top and bottom of the unit. The top hook rotates so the cord comes off fast when you're ready to plug it in but you have to manually wrap it back up.
This steam mop stands upright on its own so it doesn't need – nor does it come with – a stand. You can park it in the closet if you have one that has partial shelves.
Pros
Stands up well on its own
Light-eight
Low profile to fit under counters
Easy to assemble (snaps into place and one screw to tighten)
Easy to use
No trigger to hold down while you're mopping
Cons
A very few people mentioned it left streaks on their floors – this was really such a small number that it's almost not worth mentioning except that it did seem to be tied to those with dark colored flooring so if that's what you have you might take note
No cooling pad
Elastic on the pads loosens over time so that the pad slips around in the front
Cord length is shorter than something like the Hoover TwinTank (which has 7 additional feet)
No included carpet glider with some purchases
Price on the Bissell PowerFresh Steam Mop
The price on the Bissell 1940 PowerFresh steam mop is average when compared to models with similar features. Because you can't even use cleaner with this one, the only additional purchases you might have are for the carpet glide ($8), replacement mop pads, and the scent discs (if you really wanted to use them).
Compare the price to the Swiffer WetJet which costs about $10/month to operate not counting the cost of the mop. The Bissell should save you money after about five months of use.

Reviews and Ratings
Reviews are extremely positive no matter where you look online. However, I did notice that 29% of the ones on Amazon were from the Vine program which means someone got the 1940 for free in exchange for writing a review. Whenever I see that, I pull those ratings out of the total and recalculate the average rating from those who didn't reply through that program just to make sure that the results weren't skewed.
In this case, the score only changed by a couple of tenths of a point which means the overall rating is pretty accurate.
Should You Buy It?
So, the Bissell 1940 has all these great opinions but is it the right steam mop for you? Here are the important points to consider before you say yes.
First, were you looking for a steam mop that you could use regularly to completely sanitize your floors? We've already seen this mop will take too long to do that.
Second, are your floors sealed? If so, you're in good shape.
Third, are you comfortable choosing one that can't use any cleaners? If so, then this might be perfect for you.
My opinion is it's easy to use, does a good job for cleaning (not sanitizing), is simple to maintain and you won't need to buy a ton of extras each month to keep using it. If you've been using a manual mop, you will absolutely appreciate how much faster it is to get the job done with this model.