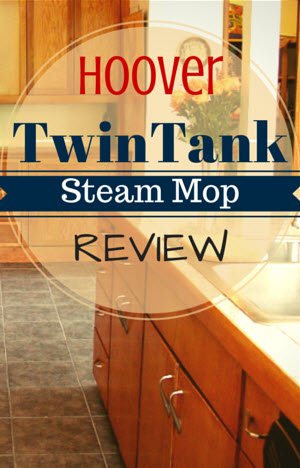 Rating:
4.3

Reviewed by
Erica
This
Hoover TwinTank steam mop
review comes after several days of use, some trial and error, and a much better understanding of what one needs to know before they buy.
The product enjoys a huge number of strong ratings from other consumers which first encouraged me to choose it and, secondly, surprised me after I'd had a chance to try it out for myself.
That's not to say I don't like it – I do find it to be very effective and very easy to use. However, there are a few, little things that annoyed me.
I purchased the model #WH20200 and it's called a twin tank because it literally has two tanks – one for water and one for the cleaning solution. The purpose of the two tanks is to allow the user to switch between cleaning and disinfecting with steam only or cleaning with steam plus cleaning solution by simply adjusting a dial on the front of the mop.
Many other steam mops have only one tank which means you can't switch between the two types of cleaning without emptying the tank and refilling it.
I'll cover what I thought about using the Hoover, explain the features and their purpose, and then get into some pros and cons to think about if you're in the market for a steam mop.
Table of Contents
Click ahead!
Floor Types & Carpets / Mop Head Type / Water Tank & Steam / Controls / Attachments & Accessories / Cleaning Solution Options / Dimensions / Consumer Reviews & Ratings / Pros / Cons / Price / My Overall Review
My Experience
I bought mine through the lowest priced listing I could find on Amazon (there were multiple listings and some were almost twice the price that I paid!) and while I selected regular shipping and was told it would be a week or so before it arrived it showed up within a couple of days. That was a plus because for some reason I was anxious to get my hands on it. I'd already held off on doing the floors so there would be more dirt than normal with which to test. (That's what I told myself, anyway.)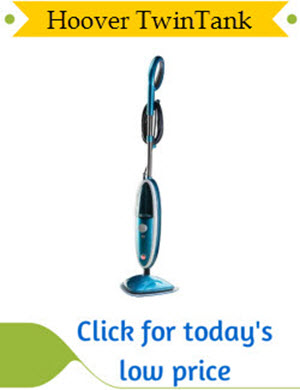 The box was in decent condition – there was one slight crinkle at the top but the mop itself was well protected by Styrofoam so there was no damage to it at all. I had it out of the box and set up in just a few minutes. You don't need any tools to assemble the two pieces. The tanks are easy to remove, fill and replace. Then it was just a matter of plugging it in and letting it heat up.
The manufacturer claims it heats up in 30 seconds and it DOES! I had poured the entire trial size container of cleaning solution into the right tank and set the mop to General cleaning. The floors hadn't been done in awhile so using cleaning solution seemed the right thing to do. I also wanted to know how the solution smelled and check the difference between cleaning with it and without.
I started with the multi-surface pad but that left the floor pretty damp afterwards. Switching to the hard surface pad made a big difference and the floors dried very quickly.
The first stroke or two are were a little stuttering as the mop pad was dry but once the steam starting coming through the mop slid easily across the floor.
Dirt came up without a problem. Some especially sticky spots (like some grease from cooking hamburgers that spilled onto the floor in front of the stove) took an extra stroke or two to completely remove but nothing strenuous.
Corners were a breeze – even under my kitchen cabinets – thanks to the triangular mop head. It gets right up against the baseboard because of how the mop pad has a surface size larger than the head itself. When you press up against anything that extra bit of mop pad sticking out pushes up to get right into the floor edge.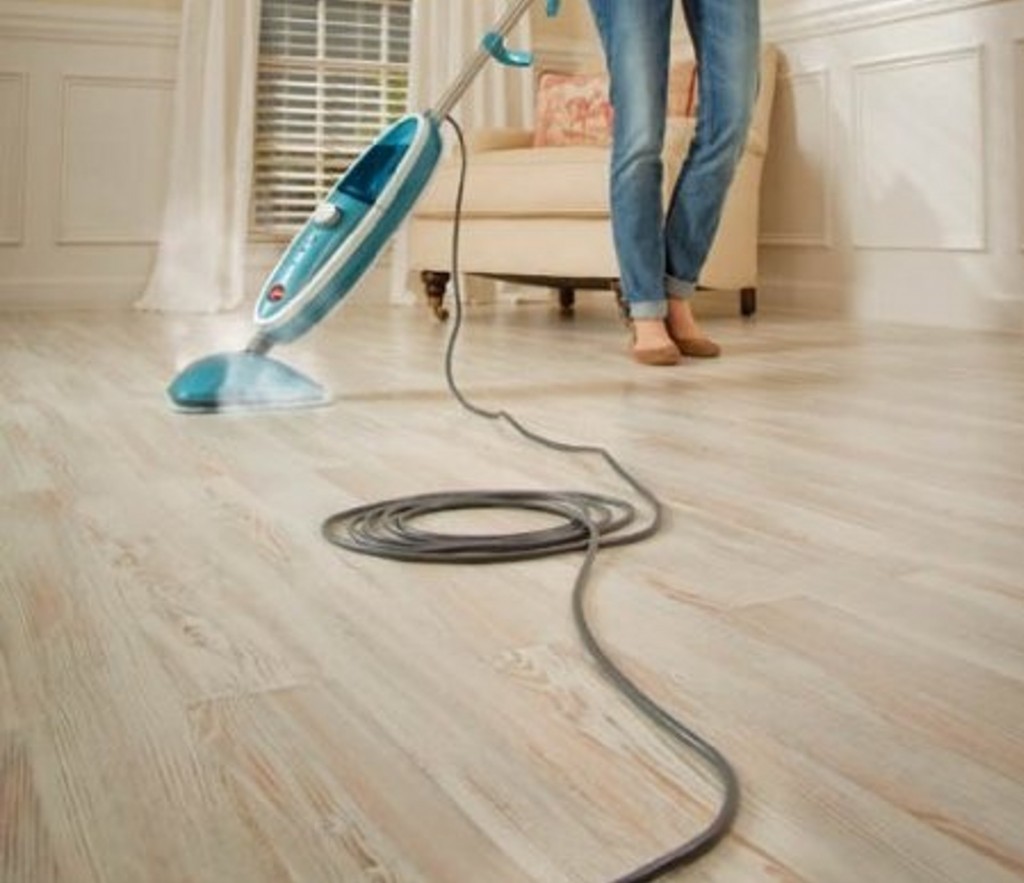 I'd read in other reviews that the steam trigger was an issue because it has to be constantly pressed. I have decent hand strength so I thought that wouldn't be an issue for me. I was wrong. Within a couple of minutes my hand was cramping from holding that trigger. It requires some pressure. When I read those initial comments I thought I'd just put a rubber band around the trigger while using it but the handle is a circular loop so you can't get a band around the trigger. I solved the issue by stuffing a kitchen towel into that loop so that it held the trigger in place. MUCH better.
The water lasted a lot longer than I expected and I completed three rooms without running out. However, the floors were noticeably tacky afterwards because of the cleaning solution and that was just on the General cleaning level. I knew that would bug my husband – it's a pet peeve of his. Sure enough, when he walked across them the next morning it was the first thing he mentioned to me. "Why are the floors so sticky?", he said, as his shoes tick, tick, ticked across the floor.
I redid the floors using the steam only function and all the stickiness was gone. Thank goodness mopping goes quickly with this thing because doing my floors twice in two days would usually make me quite cranky.
The next day I tested it out on our master bathroom. I loved how it got around the base of the toilet! That's such a nasty spot to clean and many regular mops won't get right up to the base like this one did.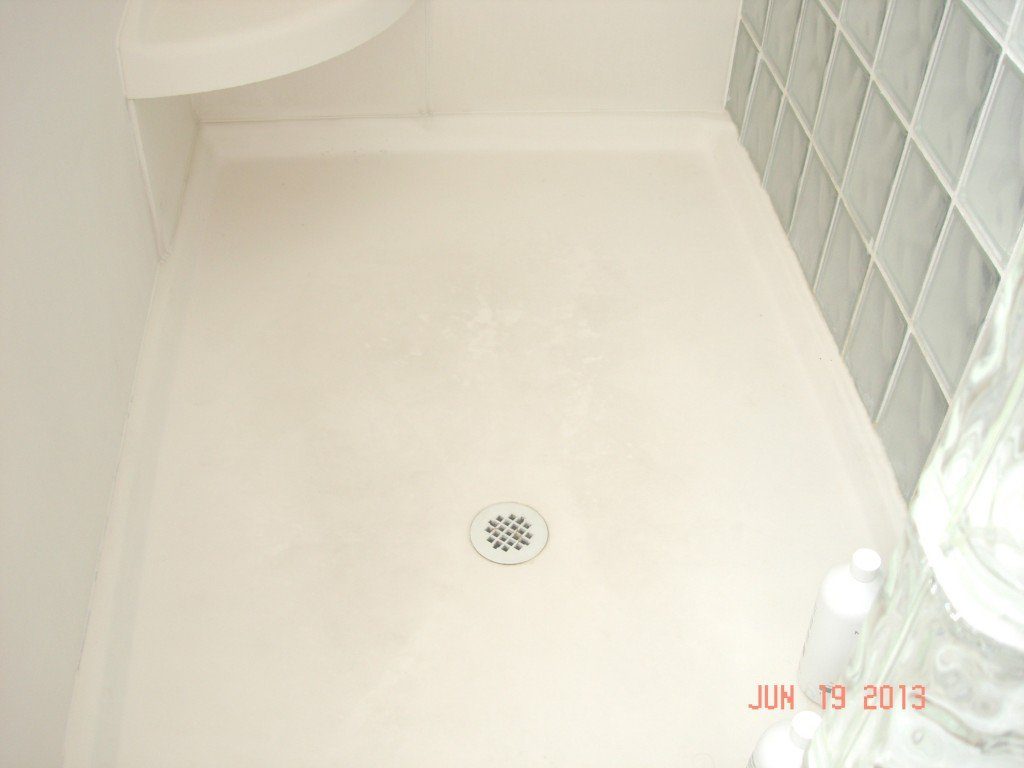 Then I had a brilliant idea. I have a snail shower – a large shower with a surrounding wall that curves around to the entry. My husband started working for a mechanic a month or two ago and he comes home covered in the most amazing layers of engine grime. He immediately jumps in the shower after work and now my shower floor is often covered with the layers of grime he's washed off of himself mixed with soap scum. Not a pretty sight.
I would normally do the shower floor on my hands and knees which is an absolutely miserable job. But what if I could use the steam mop in there? Could it cut through that junk?

The answer was a very happy yes!
It wasn't completely effortless and each section took several strokes in order to cut through the scum but it was still ten times easier than having to scrub it with a sponge and a lot less dangerous than sniffing all the fumes from the cleaners I've had to use to dissolve that soap scum. I also felt much more confident that the shower floor was truly sanitized because of the steam.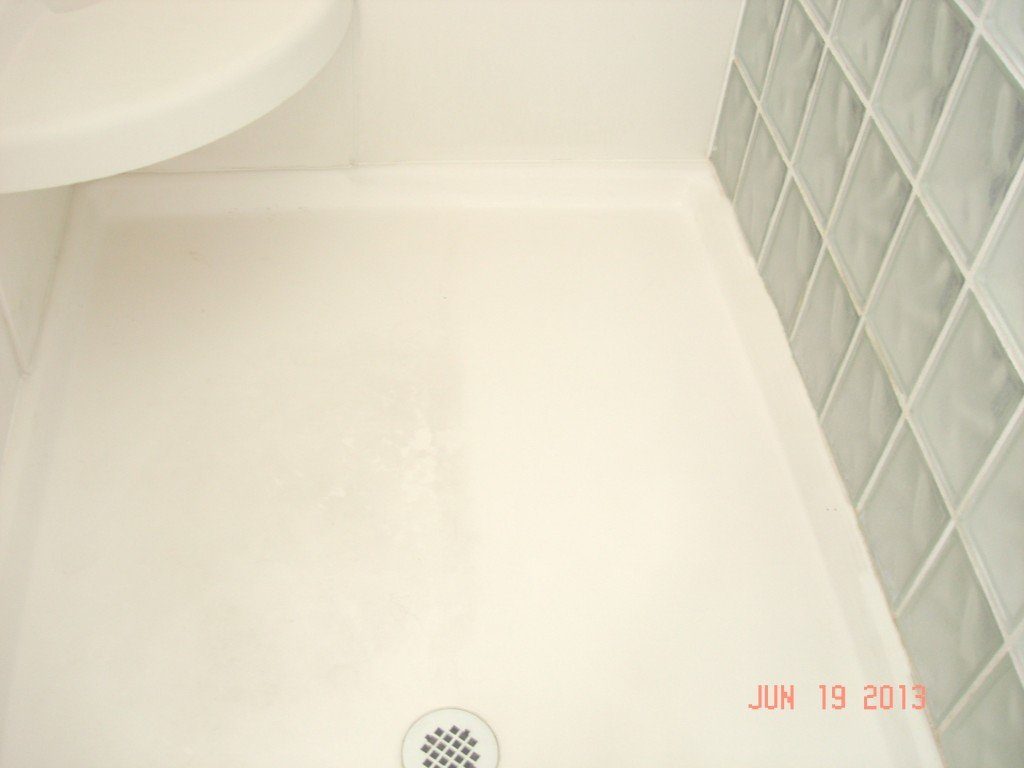 There were two trouble spots that the Hoover TwinTank didn't handle well but I'm not surprised. The first was the grout in my tile floors. It didn't make a dent in the grout color at all but I didn't expect it to. I'd already planned on getting a second piece of equipment for other types of steam cleaning.
The other trouble spot was a hard water stain in front of my refrigerator that has built up over time from the water dispenser in my fridge. Each family member must be sending a drop or two to that same spot each time we fill our glasses and over the years that's turned into a dark, circular spot on the tile.
When the steam mop didn't cut it, I pulled out one of those magic eraser sponges. That removed maybe a fifth of the stain but couldn't budge the rest. That's when you know something's pretty bad as those sponges cut through almost anything. I then laid a paper towel over the spot and poured CLR on it and let that sit for about 10 minutes. That removed the rest of the stain.
For the most part, I really like this steam mop but there are a few things that bug me. First, the power button is located on the lower part of the main body so you have to bend down to turn it on. Intuitively, it seems that power button should be on the handle where you could reach it more easily.
Second, the cap on the cleaning solution tank is a little closer to the inner edge than the cap on the water tank. There's no way to get your fingers on one side of the cap so you have to make a few small turns to take it off.
Third, the mop sits decently in the cooling tray but the handle wobbles a bit and if you bump it the whole thing falls over. It fell over at least three times in three days and that was starting to really bug me. It didn't help that I'd left it sitting out in the kitchen so I could continue playing with it, though. Storing it in the closet should help. I have a large cleaning closet where this will fit and will have a support on each side so it's not likely to tip over when not in use.
Floor Types and Carpets
The Hoover TwinTank steam mop will handle hard floor steam cleaning and carpet refreshing. It's safe to use on:
Laminate (check with your manufacturer or read your flooring warranty first – they probably recommend you do not use this on laminate even though Hoover says it is safe to do so)
DON'T use it on unsealed or waxed flooring
There's no suction so you need to sweep or vacuum your floors before cleaning. Otherwise you'll end up with the larger bits of dirt and dust bunnies shoved into little, damp piles on your floor that you'll have to pick up after.
Accessories include a carpet refresher triangle. When you attach a pad and place the mop in the triangle you can lightly steam your carpets to remove built up odors. It is NOT a carpet cleaner as there's no extraction of liquid.
The steam perks up the carpet pile a bit, too. If you have pets and your carpet picks up their scent or if you smoke in your home, you can help eliminate those odors with the refresher tool. You'll need to let the carpet dry after use.
By the way, don't try to use the TwinTank on walls, windows, mirrors, or other vertical surfaces. I tried it in the shower to see what would happen and water just pours from the bottom edge of the mop head including the dirty water absorbed by the map pads. Messy, messy, messy. Get a different tool for that kind of work.
Mop Head Type
The Hoover TwinTank steam mop has a swivel head with triangular shape to reach into corners. I don't think it gets RIGHT into the corner because it's not exactly a 90 degree angle on the front but a slightly rounded corner. It did do better than my regular mop, though.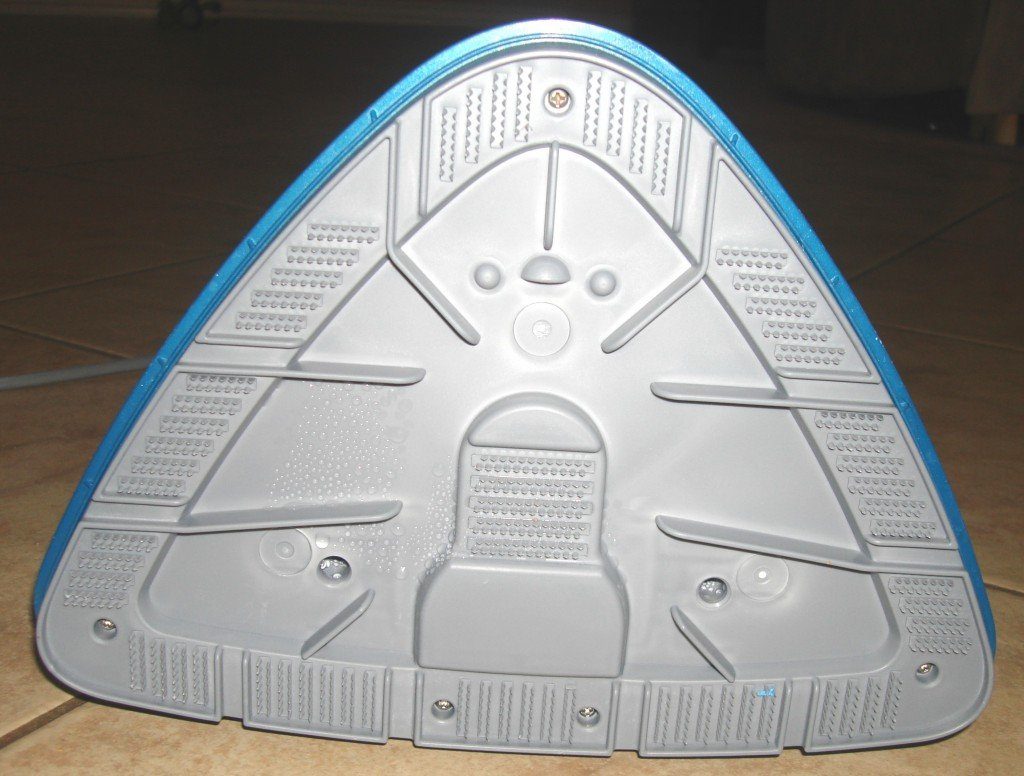 The mop head needs to be protected by one of the three included mop pads during use. These are held in place with pointy, plastic strips on the bottom of the mop head. You simply put the mop pad on the floor and place the mop head on the pad and they're attached.
Steam is not disbursed through those strips. Instead, it comes out of three small holes in the bottom of the mop head.
To remove the pad, step on the excess material on the back of the mop head and pull the mop up. Then pick up the mop pad and rinse it by hand or throw it in the washing machine.
The pads are made of microfiber, are very absorbent, and dry pretty quickly.
One pad has three holes in it and is called the multi-surface pad because it can be used on hard floors AND on carpets. The other two do not have holes and are called the hard floor pads.
Water Tank & Steam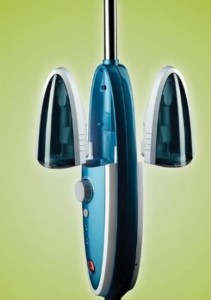 The two tanks both have clear, see-through covers so you know how much liquid is left in each. The water tank holds 16.9 ounces of water which should provide 20-25 minutes of steam, according to the manufacturer. That's just .13 of a gallon which is really a small amount of water. It did last a lot longer than I expected and I was very pleased that I didn't have to constantly refill the tank just to do a couple of rooms.
The tanks are very easy to remove yet still very sturdy when attached. To remove, just grip the sides or pull up on the top lip. On the bottom of each is a twist off cap. The tanks are small enough to put under the tap to fill and will fit under any kitchen sink nozzle.
The steam pressure is constant and cannot be changed although you'll see less steam emitted when the water tank is running low. Yes, you can actually see the steam coming out from under the pad as you clean.
Hoover TwinTank Controls
There are three controls used in the operation of the Hoover TwinTank steam mop. The first is the power button which is located in the middle of the body. It's operated by pushing it to turn the unit on and pushing again to turn it off.
The second control is the steam knob which is also located on the body and is dial operated to choose one of the cleaning levels which include:
General cleaning with solution
Spot cleaning with solution
Tough stains with solution
Moving that dial simply controls the amount of solution used and not the amount of steam that's used.
The third control is the steam trigger on the handle. While the handle itself is well shaped and comfortable to hold, the trigger has to be constantly held while cleaning and that's the part that's uncomfortable. As I mentioned above, a small towel stuffed into the handle will take care of that. Otherwise, it's very easy to move the mop around. It doesn't feel unwieldy and works nicely around furniture legs and baseboards.
Two light indicators on the front of the mop tell you whether or not the power is on and indicate when the steam is sufficiently heated for cleaning.
The steam indicator light stays off until the steam is ready and then it turns green letting you know it's heated and ready to go. It really does heat up very quickly.
The steam mop is operated by a 12 amp motor and is surprisingly quiet. I was mopping the kitchen area at 2am with a bedroom located off each side of the kitchen. No one woke up and I was able to listen to the TV while working. It's not silent, by any means, but it's quieter than my Dyson carpet vacuum.
Attachments & Accessories
There are a total of five accessories that come with the TwinTank:
3 microfiber pads (one for multi-surfaces and two for hard floors only)
1 carpet refresher triangle
I found the two mop pads without the cutouts (the hard floor pads) did a better job at mopping up water and left my floors more dry when I was done so total drying time was faster.
Additionally, the box includes an 8 oz trial bottle of Hoover® 2X SteamPlus™ Cleaning Solution. This lasted long enough to do 2 large rooms on the General cleaning setting.
You shouldn't need to buy any additional mop pads. This is a big savings in comparison to those replacement head style mops. The mop pads are nice and thick and feel like they'll hold up if cared for according to the instructions.
While there are replacement parts (like the water filter) available online there are no optional accessories available for this model so there are no attachments for cleaning counters, grout, or glass.
Cleaning Solution Options
You can clean with only steam but if you want to use a cleaning solution it's suggested that you use the Hoover® 2X SteamPlus™ Cleaning Solution. This solution is biodegradable and the manufacturer claims that is completely safe for your home and family.
They also claim that it leaves no residue but I found it did leave my floors tacky. Mopping a second time with just steam removes the residue.
The cleaner is proprietary to Hoover and they don't reveal the ingredients but it did not smell like a bottle of chemicals. It had a nice, gentle scent.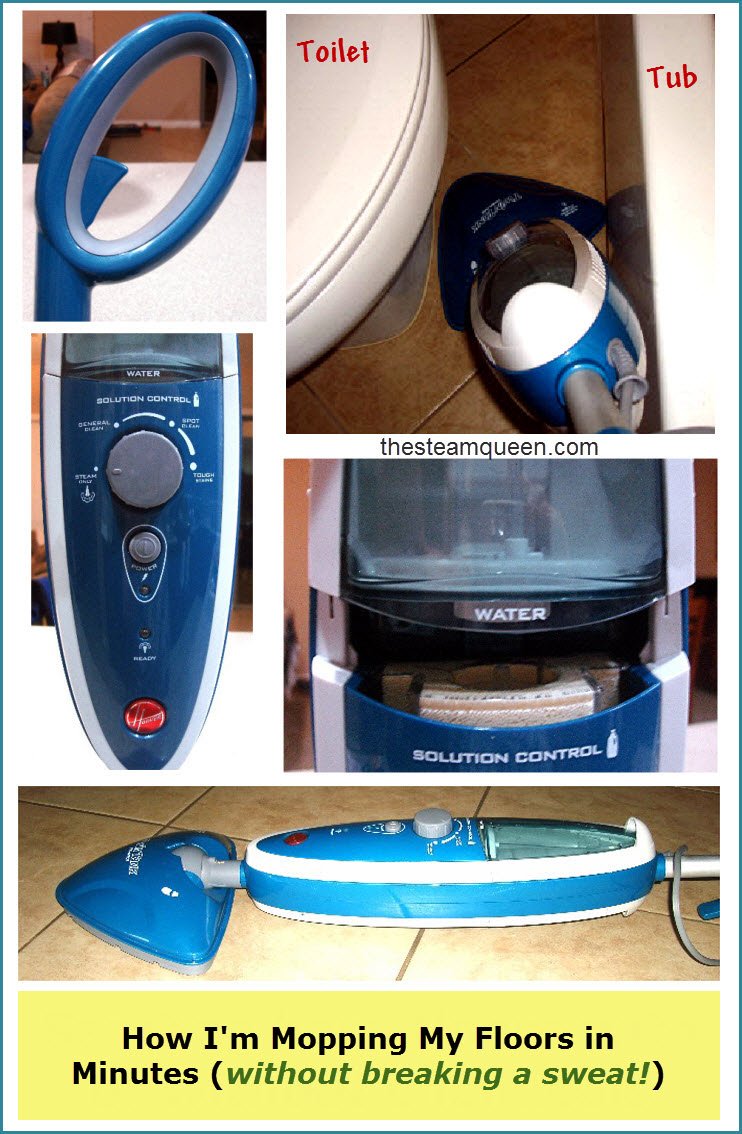 Dimensions
Height: 44 inches (from the floor – without pad – to top of handle)
Width: 11 inches (widest point of the mop head)
Depth: 8 ½ inches (from tip of mop head to the back of mop head)
Weight: 6 pounds
Power cord length: 30 feet
Mop head height: 1 inch at the front and 3 inches at the peak no problem fitting under my cabinets)
5 ¼ inches from tip of the mop head to the front of the stick
Lays completely flat to fit under furniture with a 6 inch clearance (very low but not low enough for my buffet cabinet)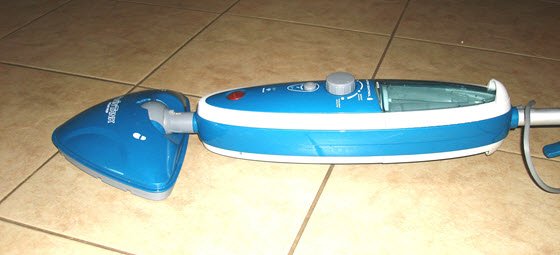 Consumer Reviews and Ratings
There are more than one thousand online review ratings on the Hoover TwinTank and the majority are overwhelmingly positive.
I spent hours reading through many to understand the overall feeling for this model and why people either liked it or didn't like it. Those who were most pleased with the performance bought it for one purpose – steam cleaning their floors. To that extent, this mop does a great job.
Most of those who didn't like it mentioned one of three things:
The difficulty of holding the steam trigger the entire time they were mopping – you can resort to my towel trick or a strip of Velcro to hold it in place
They had a technical issue or defect with the product although this seemed to be a very tiny percent of buyers
They had used a more expensive steam mop in the past and were comparing the two. It's important to understand that this is a budget steam mop for the masses and performs a basic function – to steam, clean and disinfect hard floors. It feels sturdy to me and even if it lasts only a year I will have paid about $7/month and saved a lot of time in cleaning my floors. I'm good with that but have nothing to compare it to – that will come with time as I test out other models.
Pros
Triangle shaped head is great for getting into corners and tight spots
Ability to clean with or without cleaning solution at the twist of a dial so you can hit tougher stains with cleaner without refilling the tank
Disinfects and sanitizes your floors if you hold the mop in place for 8 seconds over each spot
Lightweight and easy to maneuver
Pads are larger than the mop head so they push up against the very edge of the floor against the floorboards
Heats up quickly so if a child spills milk on the floor you can get to it before it spreads too far
Water tank lasts quite awhile and saves you trips to the kitchen sink
Carpet refresher to reduce carpet odors between deep cleaning
Replacement parts appear to be readily available online should they be needed
Replacement mop pads are reasonably priced but the mop pads appear to be long-lasting so you many never need to buy any more
Saves money over the mops that need constant pad replacement
Complete set of instructional videos available on the Hoover website for assembly, use, and maintenance
Easy assembly requires no tools and goes together in seconds
Built in cord storage for a nice and tidy look in your cleaning closet
Manufacturer is widely recognized and has a good reputation
2 year warranty
Cons
Power button seems inconveniently placed since you have to reach down to turn it on rather than having it on the handle
Cramps your hand to hold the steam trigger during use so be prepared to wrap something around it – like a Velcro strap – to hold the trigger for you
A bit wobbly when standing upright for storage so might not want to keep it sitting out all the time – instead you should store it in a closet
Only good for floors and not grout, counters, mirrors or glass
Hoover TwinTank Price
The price is very reasonable at less than $100 at most stores. Amazon has the best deal online although you can sometimes find the same price at Walmart. They don't call it a TwinTank on their site, though – they call it the Hoover Enhanced Clean Disinfecting Steam Mop
. You might be able to get it at the store or do ship to store or home.
I compared the Hoover TwinTank steam mop to other steam mops that had the same triangle head design. Several of them cost less than the Hoover but all had shorter power cords (some were nearly half the length of the TwinTank) and none had the dual tank set up where you could switch between using solution and using just steam.

My Overall Review
After reviewing the Hoover TwinTank in a variety of settings and with and without cleaner, I like how it performs despite its few bothersome traits about the button location and the trigger since they're not show stoppers. Anyone who wants a steam mop that allows for both steam only and steam and cleaning solution, wants to safely disinfect their hard floors and knows what a pain it is to work with a short power cord will appreciate the features of this model.