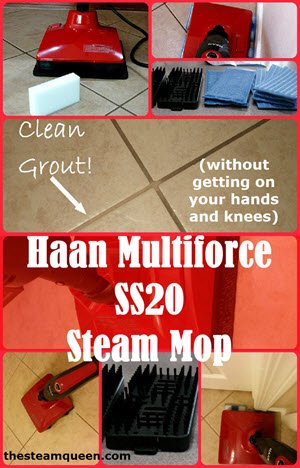 Rating:
4.7

Reviewed by
Erica
Months ago, I bought the
Haan Multiforce SS20 steam mop
and have FINALLY finished my review. And you know what? This product made me feel completely unnecessary – in the best way possible!
This is the cheapest model in the company's Multi-force line up – a set of red and black steam mops that all include one very interesting feature called CR-Motion. The mop head is actually two heads and the motion feature rotates those mop heads for extra scrubbing power without my having to lift a finger.
Of all the different brands and models I've reviewed and tested this is my favorite. It costs more but I'll explain why later and considering it's remarkable performance on grout I consider it money well spent.
Previously I'd written that you couldn't find a stick mop that would clean grout. Well, I was wrong. I found one. However, it does need some help when it comes to grout – nothing too tedious or back-breaking, though.

This is a stick style, extremely light weight steam mop that is meant for both indoor and outdoor use. (You read that right – you can use it outdoors, too!) Thanks to the included scrubbing brush attachments for the mop head it will clean grout as well as cement (I even tried it out on the cool deck around my pool….).
The CR Motion scrubbing feature can also be used without the steam turned on which means there are multiple handy uses for this mop. It's more like a mop/long-handled electric scrub brush.

Table of Contents
Click ahead!
Floor Types & Carpets / Mop Head Type / CR Motion Feature / Cleaning Grout / Water Tank & Steam / White Sponge Test / Controls / Attachments & Accessories / Cleaning Solution Options / Dimensions / Pros / Cons / Consumer Reviews & Ratings / Price / My Overall Review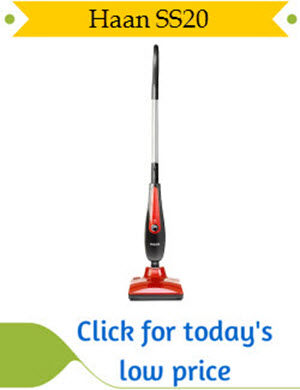 Here are the different ways in which the Haan SS20 can be used so you see what I mean:
Steam only with mop pads – regular cleaning of your hard floors
Steam and Motion CR combined with mop pads – regular cleaning of your hard floors (the difference is that the Motion CR makes it completely effortless to move the mop around and it does all the scrubbing for you)
Motion CR only with mop pads (no steam) – clean hard floor surfaces that are heat sensitive (like laminate or wood but you'd have to spray water or a cleaner to wet the floors)
Steam only with scrub brushes – light cleaning of concrete, dirty shower floors
Steam and Motion CR combined with scrub brushes – cleans grout, more aggressive cleaning of concrete and outside walkways
Motion CR only with scrub brushes – aggressive cleaning of hard surfaces where heat can't be used (for instance, if you're going to use a chemical on stains on your concrete which would react poorly to steam)
Motion CR only with polishing pads – apply a polishing agent to hard floors
Carpet glider – freshen your carpets
It doesn't vacuum and does not handle vertical surfaces.
Floor Types and Carpets
Haan handles the information on which floor types the SS20 Multiforce can be used differently than other steam mop manufacturers. Instead of including a list of types they're more careful than some other manufacturers and do warn that the mop is designed for use only on hard floor surfaces that can withstand high heat.
Think tile, marble, stone, cement…other than those you should check with the maker of your flooring to see if it's safe to use this product.
However, since you can use this mop's scrubbing motion without turning on the steam it does have applications for other floor types as mentioned in the list in the preceding section.
In my opinion, this means you could get away with using it on laminate flooring without the steam and let the mop do the scrubbing for you. If you have a combination of floor types in your house (like I do – I have a couple of rooms in my basement that are laminate) this could be a single solution for all of your hard flooring. You'd have to use a spray bottle to dampen the laminate floors and then just use the mop's CR Motion option with the microfiber pads but it saves you from having to apply any pressure when mopping. It would feel more like vacuuming where you just push the mop back and forth and let it do the hard work.
It can also be used on carpet with the included carpet glider for refreshing your carpet fibers in between cleanings with your regular carpet cleaner.
Mop Head, Pads and Brushes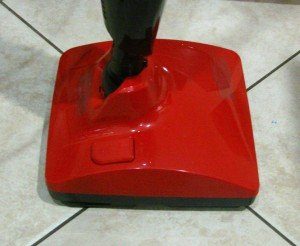 Unlike so many other mops, the Haan SS20 has a square mop head. I think that was necessary in order to accommodate the CR Motion feature. The only problem with that square head is it won't fit behind the toilet so that still has to be done by hand.
It comes with 4 sets of mop pads/attachments:
4 cleaning ultra-microfiber pads (for regular mopping)
2 buffing pads (for polishing)
2 scrub brush attachments (for grout, tough dirt, outdoor surfaces)
Since the mop head is really TWO heads you have to use TWO pads or brush attachments at all times. You have to think of the 2 cleaning pads, for example, as the equivalent of two mop pads on other stick steam mops.
The height of the mop head is low enough to fit under my cabinets and get right up to the baseboard underneath when the cleaning or polishing pads are attached.
The mop head is 2 ¼ inches tall at the front and gradually increases to 3 ½ inches in height at the point where the handle is connected. The head is 5 ½ inches from the front to where the handle is connected. That should help you figure out how this will fit under your own cabinets.
The mop pads are wider than the mop head so you can get about 1/2 to 1 inch of mop pad sticking out on each side. If you press the mop head right up against the baseboard that extra mop pad length will press right up against your baseboards to get the very edges of the floor pretty nicely.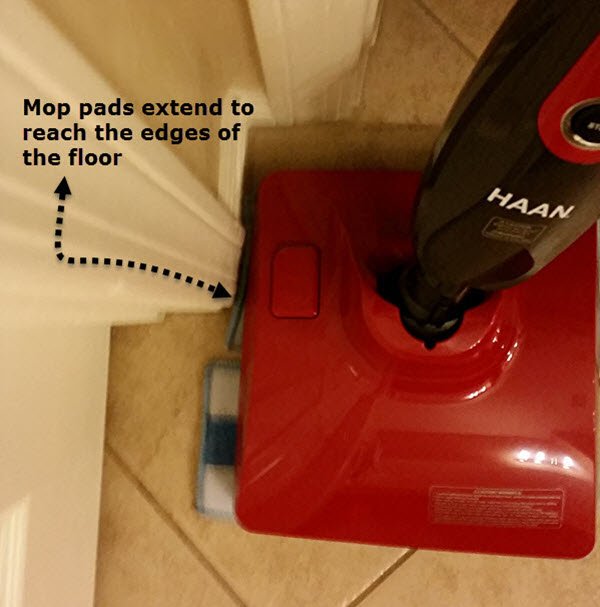 When the brush pads are attached, however, the mop is taller so it doesn't fit under my cabinets as well which means grout under cabinets may have to be done by hand but those are not my problem areas when it comes to grout.
There are 20 steam jets on the bottom of the mop head. A good amount of steam is visible during the heating up process and while in use.
The SS20 doesn't just use regular microfiber pads, it comes with ULTRA-microfiber pads which are more absorbent than regular microfiber. They're much stiffer as a result but they can hold an amazing amount of water which leaves your floors almost completely dry immediately. I had to check several times to make sure the mop was working when I first used it because when those pads are attached there's no sign of water on the floor!
There are also 2 buffing pads included that you can use to polish your floors. I had to keep reminding myself that this is more than just a steam mop because you can use it WITHOUT the steam turned on. Just attach the pads, put your polishing agent on your floor and use the CR Motion feature to work it into your flooring.

The mop pads are easy to attach and adhere to the base by way of Velcro strips on the bottom of the mop head.
When not using the CR Motion feature there is more effort required to move the mop around. It feels more like a regular mop at those times so I use the CR Motion feature 99% of the time. The only times I don't use it are when mopping in corners. I found that I had better results getting into corners when I turned off the CR Motion and just pushed the mop head where I needed.
The mop head does swivel from side to side and is easy to control.
A couple of notes on the mop pads and brush attachments…
I could not figure out how to attach the brush heads and there's nothing in the manual about how to attach them. I finally realized they snap on but I had to get on the floor, lay the mop on its side and push them into place until they clicked. I then read in the manual that you should not lay the mop on its side. *sigh* Now, I slip them on like a pair of shoes – hold the mop in the air a couple of inches, slip the end of one of the brush heads over the tab on one side of the base and then use my thumb to ease the other end over the tab on the other side until it clicks. It's easy to do once you've done it a few times but frustrating if you're trying to find that information in the manual.
The mop cleaning pads are really stiff – you can't wring them out. They hold so much water that I've never had them drip any on the floor after I've removed them. Even when rinsing them out they simply hold all the water. I squeeze them together to get some of the excess water out and then lay them flat in my laundry room or outside to dry. I've read reports that if you put them in the washing machine the threads may start to pull and fray so I've stuck with hand washing.
Haan SS-20 CR Motion Scrubbing Feature
Let me get into how the CR Motion works because it's THE feature of this steam mop that makes it so incredibly unique.
There's a little foot pedal on the top of the mop head base that you step on to turn on the CR Motion feature. When you turn it on for the first time you'll notice it's a bit loud. It sounds like a sewing machine on the highest speed – chug chug chug chug.
The two pieces of the mop head rotate at a rate of 850 cycles per minute. While one half of the mop head is just a bit in the air to come back around for the next rotation, the other half of the mop head is down making contact with the floor. As the mop heads cycle around they're sweeping over the floor surface in a scrubbing motion.
The mop head seems to almost float over the floor with CR Motion on although it truly is making contact and with enough force to lift dirt with a pass or two although no force is required by the user. It's just as if you were manually mopping and applying force to get up tough dirt but it's all electronic. You literally just need to hold the handle in the air and guide the mop head where you want it to go.
What About Grout?
The manufacturer's claim that this mop cleans grout is what initially caught my attention. I have a lot of tile flooring and that means A LOT of grout. Other mops I'd tested said the same thing but they only seem to skim the surface and – maybe – get at stuff like a glob of recent jelly sitting in very shallow grout.
The Haan SS20 has two special features, though, that seemed they might be rightfully making that claim – the combination of their CR Motion technology AND scrub brush heads.
Now, to really clean grout that's holding on to dirt accumulated over time there's going to have to be some sort of scrubbing involved or a pressurized spray of steam or water. No other steam mop I've reviewed has true brushes so they aren't able to apply that much-needed scrubbing. The Haan SS20 can, though.
I was so eager to test this out on my grout that it's the first thing I tried after my Haan showed up at my door. I put on the brush mop heads and filled the tank with water. I let the steam heat up. Then I turned on the CR motion and let the mop scrub one spot on the tile.
After a minute or so I swore it wasn't doing anything but leaving some water on the floor. The brush heads don't have any cloth on them so they do leave more water behind than the mop pads.
So, I turned the mop off thinking what a bust this might be and reached down with a rag to wipe up the excess water and LO & BEHOLD – clean grout. Shocking since I hadn't cleaned the grout in the 8 years we've lived in the house (don't judge me – I'm just an overworked mom…). Here's the before and after. Impressive! But I could see I'd have to mop afterwards with the cleaning pads to get any remaining tile cleaner off the floor.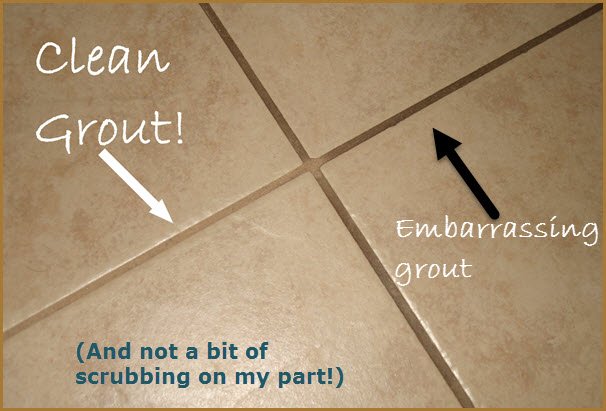 Still – the results on grout are significantly better with the Haan SS20 than with other mops I've reviewed and with a lot less muscle involved (as in none). It's also less messy than using a pressurized steam cleaner wand. No need to get on my hands and knees or do any manual scrubbing. Phew!
In fact, it's so easy to let this mop clean your grout that if you can operate your smart phone with one hand you can browse the web and catch up on your latest blogs and news stories WHILE cleaning your grout. Ha!
Here's the approach that has worked best for me:
Get a grout cleaner (or make your own natural grout cleaner) and put it in a spray bottle
Spray a section of your grout with the cleaner – maybe two feet by two feet square
Attach the scrub brushes to your mop head, fill your water tank, plug in the mop and press the steam button
When the mop is ready, turn on the CR Motion and hold the mop in place over one section of grout for 20 seconds making sure some portion of the scrub brush is over the grout line
Move to the next section of grout and hold the mop in place for 20 seconds
Repeat moving the mop to new sections for 20 second increments to scrub each portion of grout you sprayed with the cleaner
Make a couple of slow passes over the entire section of grout
Wipe any excess water in the grout lines with paper towel or a rag so the dirty water doesn't settle back in
Spray your grout cleaner on the next 2 feet by 2 feet section, wait a minute and then start cleaning that section
Once you're done, let your mop cool down, replace the brush heads with the cleaning pads, refill your tank if necessary and mop the whole section to remove any leftover grout cleaner
Wet grout still looks dirty and if, like me, you're impatient to see if the mop did its job use your hairdryer and dry a section of your grout to see how clean it looks – takes only a minute or two.
Water Tank & Steam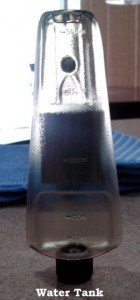 The water tank on the Haan SS20 holds 11.83 oz. This covers about two rooms when doing a regular mopping. There's a little, easy to reach release button that pops the water tank free. Just lift it out, remove the cap and fill with water. You can use tap or distilled water.
There is no water filter in the Haan to keep it from clogging up with deposits like calcium from hard water but the manufacturer does include 12 packets of a Fresh Rinse lime and scale remover that you're instructed to use once a month.
The tank heats up in 40-45 seconds and has a run time of about 20 minutes. It operates at 1200 watts which isn't too bad – about 13 cents or so an hour to run.
It emits a constant steam and there's no variable control. You can turn the steam on or off but you can't dial it up or down in any way.
The manufacturer says this mop kills 99.9% of germs, bacteria, and dust mites.
White Sponge Test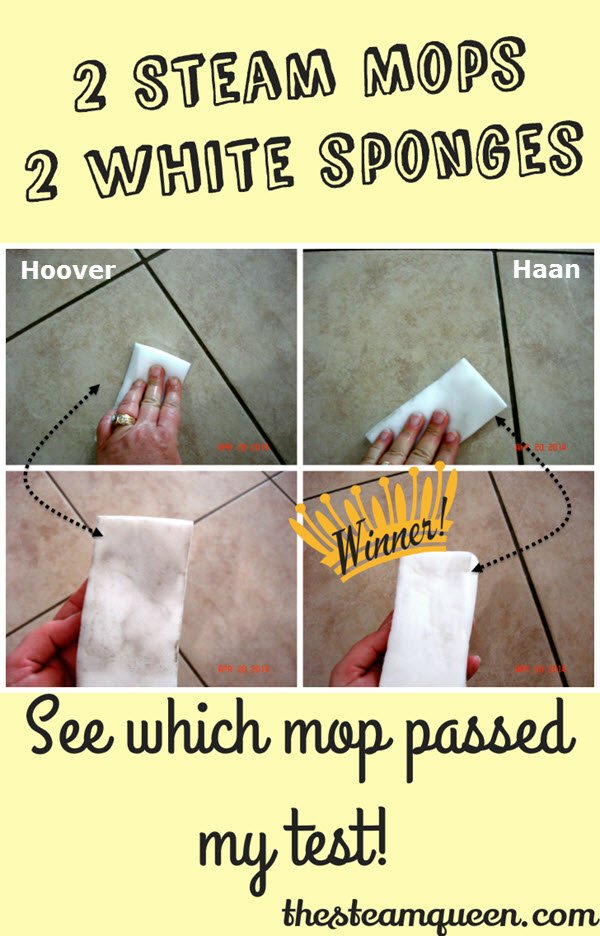 I could tell this was a more serious steam mop than the ones I'd reviewed previously so I thought I'd run a little test. I cleaned a patch of floor with my Hoover TwinTank and then took a brand new Magic Eraser sponge and wiped the floor to see if there was any remaining dirt. There was. Darn it…
I then ran the same test for the Haan SS20 on a tile right next to the one used in the TwinTank test and used another brand new Magic Eraser to wipe that tile afterwards. It came up spotless. Obviously, in this case, the Haan SS20 did a much better job of truly getting all the dirt off the floor.

Controls
The handle is curved and easy to hold. I've never felt any hand cramps while mopping. There's no trigger for the steam so nothing to hold or pump while you're cleaning.
There are really only two controls – the steam on and off button located on the front of the mop handle and the CR Motion foot trigger on the base.
An indicator light around the steam button glows red when steam has been turned on and doesn't glow at all if steam is off. The only way to completely power off the steam mop is to unplug it from the wall.
Attachments
Besides the mop pads and brushes mentioned earlier the Haan SS20 also comes with a carpet glider and a resting pad on which you can place the mop while it's heating up or cooling down.
Cleaning Solution Options
You are not to use cleaning chemicals inside this mop at all. You can spray them on the floor if you want and use the mop on top of them but you can't put chemicals inside the tank.
Dimensions & Storage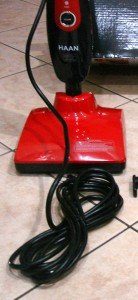 The mop stands upright without being wobbly even when placed on the cooling pad. There are cord wrap guides at the top and middle of the handle and the top one is a quick release hook so you can remove the cord easily.
Interestingly, I came across a comment on another site about how the user found the Haan SS20 tipped over easily but I have never had that issue whereas I have it all the time with another steam mop I've reviewed. If you bumped into it I could see it tipping but I have to brace the power cord hook on one of my other steam mops under the edge of my countertop when I'm not using it to insure it stays upright. Not this one, though!
The cord itself is short – almost annoyingly so – at only 18 feet in length. You're going to have to move from outlet to outlet if you have a big area to mop. Because the power cord is heavy duty and designed for outdoor use as well as indoors (it's thick like the cords on heavy duty power tools) only a 15 amp 16 gauge extension cord is compatible.
Width: 10.27 inches
Depth: 9.8 inches
Height: 47.24 inches
Weight: 6.94 pounds
Pros
Can use without steam for times when heat would be damaging to the floor or when used on chemicals placed on the floor
CR Motion simulates manual scrubbing for more powerful cleaning
Scrub brush attachments do penetrate grout and can be used with a cleaner on the grout to truly remove built up dirt and grime
Extremely absorbent mop pads so floors are dry almost instantly
Can clean outdoors as well as in
Very lightweight and easy to move around when CR Motion is engaged
Efficient use of water
Produces visible and effective steam
Heats quickly
Has multiple uses – polishing, refreshing carpets, scrubbing, outdoor surfaces like concrete and Cool Decking
No trigger to hold down to release steam which means no cramping in your hands while mopping (I would think this was an ideal choice for anyone suffering from arthritis)
Sanitizes floors without having to use any chemicals
Durable, easy-to-fill water tank
Simple foot pedal control to activate CR motion
Can be used to apply floor polish
Cons
Short power cord
Some drag on the movement when not using the CR Motion feature – requires a bit more effort
Square mop head doesn't fit behind the toilet
No water filter (a benefit in that you don't have to replace one but does mean you'll want to use a lime and calcium remover regularly to prevent deposits from impacting mop performance)
Haan SS20 Reviews and Ratings
There aren't a lot of online reviews for this mop which may explain why I've had some comments from readers even though – until now – I hadn't written much about this one. The majority of the reviews I have read have been positive and online retail sites show strong ratings.
Haan Multiforce SS20 Price
The Haan SS20 Multiforce steam mop costs about 3 times what my Hoover TwinTank cost but based on my hands-on tests the higher price is justified because of:
It's superior cleaning results
The CR Motion scrubbing
The included scrub brush attachments
The additional surfaces on which it can be used
It's being flexible enough to use with or without steam
Living up to its claim that it can clean grout (without you doing any of the scrubbing)

Overall Review
I've had this mop for four months now and have used it on a number of different surface types (tile, concrete, the floor of my shower, and cool deck) and on a regular basis. I've not had any issues with it at all. I absolutely love the job it does and I've been personally testing several different steam mop models for over a year now. This one is my favorite.
This is ideal for those who want a steam mop for indoors but could also benefit from the scrubbing brushes for tile grout and for use outside. If you hate getting on your hands and knees to clean grout and don't want to deal with the mess of a pressure washer or steam wand cleaner for the job, this is perfect.
It might be out of the price range for some but if you can swing it the extra price does bring with it useful and effective features not found on less expensive steam mops. You'll be able to handle more flooring materials and more household tasks.
However, if you consider breaking a sweat while mopping part of your regular workout routine, you're going to hate this mop because it really has automated as much of the job of mopping and grout cleaning as one could hope for.