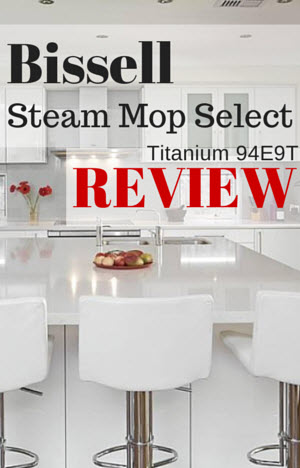 Rating:
4.2

Reviewed by
Erica
The "Titanium" in the name of the
Bissell Steam Mop Select Titanium 94E9T
refers to the color – but what a great way to catch our attention because it makes us think of something powerful and strong. Fortunately, it's not misnamed. I'll give it marks for getting the job done and it's easy to use.
There are a couple of differences between this and other comparably priced options and I'll break those out for you in this review so you can make the best buying decision for your own home and your floor cleaning needs.
The 94E9T is a stick steam mop made for cleaning hard floors. It does not work on carpet nor can it be used on vertical surfaces like shower walls and windows.

In the box you'll find: Handle, lower body, mop head, removable water tank, 2 mop pads.
Assembly is quick and easy – no tools needed. Just snap the 3 pieces of the body together, fill and insert the water tank and attach one of the mop pads.
Table of Contents
Click ahead!
Floor Types & Carpets / Mop Head Type / Water Tank & Steam / Controls / Attachments & Accessories / Cleaning Solution Options / Dimensions / Pros / Cons / Consumer Reviews & Ratings / Price / My Overall Review
Handles a Variety of Hard Floors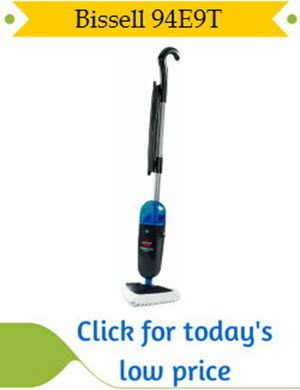 Bissell states it can be used on the following surfaces:
  Ceramic
  Tile
  Vinyl
  Laminate
  Marble
  Stone
  Sealed hard wood
As always – never use a steam mop on wood, vinyl, or laminate floors, though, without making sure the manufacturer of your own flooring says it's safe. Steam can dull the surface of some floors and could void your warranty.
Mop Head Shape and Pads
One thing you've got to decide when shopping for a steam mop is whether or not you have a preference for a triangle shaped head or a rectangular one.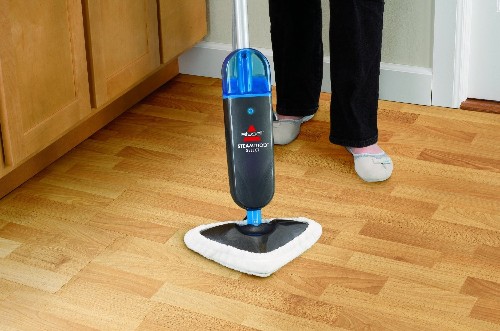 Like this Bissell, the steam mop I use has a triangular head and I like it except for the fact that it doesn't get behind the base of toilets in one pass. I have to get half way on one side and then half way on the other side. I could also perhaps cover more area in a shorter time with a wider rectangular head.
The Bissell Steam Mop Select 94E9T should be able to get behind your toilet the same way my mop does. For really cramped quarters where the toilet is right up against a tub or cabinet you might run into a situation where you can't get the mop in between the two which means you'll have to get that spot by hand.
If you've got a lot of square footage of hard flooring to clean or a very tight bathroom you might prefer a rectangular mop over this triangular shaped one.
The Bissell mop head swivels at the base and with just a flick of your wrist you can move it around furniture legs. The shape does get into corners nicely but not right in the very heart of the corner.
A nice feature of this mop head is its generous width, though. It has a 13.4 inch cleaning path which is about 2 inches wider than my Hoover TwinTank.
The mop head has 9 steam vents along the perimeter of the bottom of the head. The steam shoots out from those vents and passes through the mop pad to get to the floor.
The two included mop pads are machine washable and attach to the mop head with a drawstring and toggle system. That's not my favorite attachment method as it requires you just about get on the floor on your knees to attach the pad. I much prefer the kind that attach with Velcro.
One of the mop pads is solid white while the other has gray scrubbing strips built in. You'd use the white pad for every day use and the scrubbing strip pad when you've got more dirt to tackle like dried on foods and scuff marks.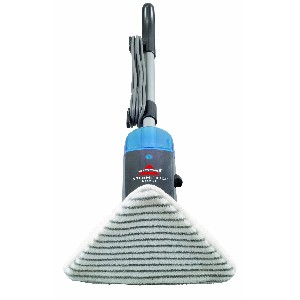 Both pads are made from microfiber with Microban Protection. Microban is the maker of antimicrobial additives that manufacturers can use in their products to prevent bacteria from attaching to that product. It means the mop pad should last longer and should be resistant to developing that nasty smell that can develop in mop heads, sponges and washrags.
If you've got a lot of floor to mop and you like to do it all at one time – say more than 800 sq feet – you'll want extra mop pads. I have around 900sq feet of tile on my main floor and it takes me two mop pads to get through them but the Bissell only comes with one of the daily use mop pads. You can find replacement pads at a number of popular online stores.
This steam mop does a reasonable job at getting right up to the baseboard but not enough to completely eliminate making a pass with a rag to get all the dirt.
Water Tank & Steam
The water tank holds 17 ounces, is made of see-through blue plastic and is removable. Unlike some other models, the twist-on cap is easy to reach but should you lose it you can get a replacement on the Bissell site for about $2.
There's no need for any cups or funnels to fill this tank, either. It will fit right under most faucets.
The Bissell 94E9T operates at 1500 watts of power which is pretty standard for a stick steam mop in this price range.
While going through reviews of this mop I found it has a good reputation for cleaning well and producing a sufficient amount of steam.
To sanitize you do have to hold the mop in place for 15-20 seconds. Again, this is pretty standard for this style of steam mop.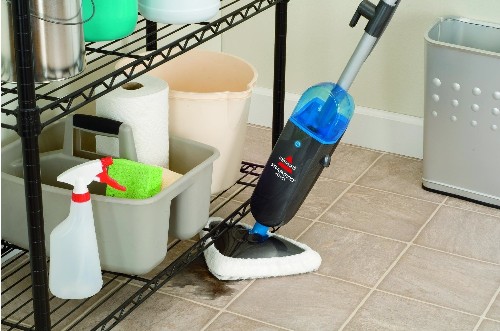 Here's the kicker, though – there is NO filter in this mop. That's the "good news/bad news" that makes it a bit different from its competitors.
The good news is you won't have to worry about the added expense of buying replacement filters down the road.
The bad news is that if you have hard water it's likely to clog the vents at some point. Bissell has a section on their site that walks you through removing any build up and they also recommend you use demineralized or distilled water with this mop.
This means that the trade off for not having to buy filters is that you might have to spend money on demineralized water. It's also possible that those with really hard water who fill the tank from the faucet might have a cloudy residue left behind on their floors as the water evaporates and leaves the minerals behind.
This may also be the reason that one of the few complaints consumers have in their review of this product is that it stops producing steam after awhile. The problem can usually be fixed by following the vent cleaning instructions mentioned above.
Bissell 94E9T Controls
The handle is black plastic that's curved at the top. With the mop handle reclined during use you've got a nice sized section to grasp while mopping. It feels very sturdy. The trigger is on the underside of the handle so you can reach it by pressing your index finger comfortably.
While this is advertised as not requiring any pumping action to release the steam you do have to press the trigger (called the "steam on demand button") to…wait for it…release the steam so I think this is a bit misleading. I think what they're trying to say is that you don't have to constantly squeeze and release the trigger. It's best if you squeeze it and make a pass or two on the floor and then press it again.
However, this does provide a method for controlling the amount of steam produced and that's a plus. You might not want to use steam continuously on some floor types and, in fact, holding the trigger the entire time can cause your floors to be wetter than you'd like and take longer to dry. The trigger can also cause some strain on your hand after awhile.
There's no on or off button. Just power up by plugging it in and unplug it when you're done. There's one indicator light on the front of the Bissell Steam Select Titanium 94E9T and it only lights up when the power cord is plugged in. There is no indicator light to tell you when the mop is ready to steam. For that, you simply have to wait 30 seconds.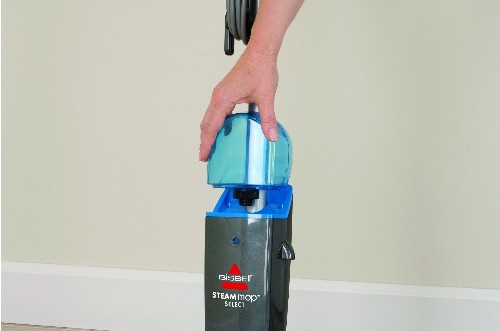 At first I thought the lack of a "ready" light might be annoying because some steam mops are often ready before the 30 seconds are up but you wouldn't know that with this model. However, I realized that was probably getting a little nit-picky because we're really talking about a matter of a few seconds difference in wait time between this mop and one that indicates when it's ready to be used.
Another plus- this mop is quiet. You can hear steam sputtering but it's really not much more than that so you can watch TV while doing your floors. It's certainly not as loud as a vacuum.
Included Attachments and Accessories
There are no extra attachments with this mop except for the two mop pads – no carpet glider and no cool down tray. You don't want to leave the mop in any one spot for too long while it's plugged in or cooling down and without a provided tray or mat you'll want to come up with a substitute of your own to protect your floors.
Cleaning Solution Options
The Titanium 94E9T only uses water for cleaning – you can't put any chemical cleaners in the tank – but if you miss the smell of freshly cleaned floors you can purchase some of Bissell's special Eucalyptus, Spring Breeze or Citrus scented demineralized water for use with the mop, spray the mop pad with your own cleaner, or spray the mop head with some home fragrance.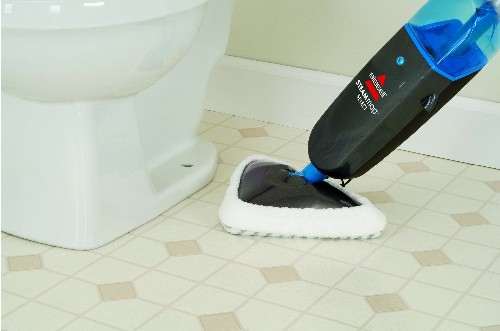 Dimensions & Storage
Height: 45.25 inches
Width: 13.4 inches (at the widest part of the mop head)
Depth: Approx 7 inches from the tip of the mop head to the back
Weight: 6 pounds
Cord length: 18 ft – not only is this pretty short but the cord attaches at the base of the mop so if you tend to hold the cord in your hand (like I do) you've then further shortened your reach by another foot or two.
This mop has a 2 prong, polarized plug and the cord wraps around the quick release cord hooks on the side of the mop which conveniently keeps the cord in control when not in use.
Pros
Good cleaning power
Sturdy handle is easy to maneuver
Very lightweight
Removable water tank can be filled under most faucets (if you're going to use tap water)
Quiet operation
Scrubbing strips on one mop pad
Microban in the mop pads for antimicrobial protection
See through water tank so you know when you have to refill
Cons
Short power cord may drive you crazy if you have a lot of floor to cover
No filter for hard water so you may need to use distilled or demineralized water
Some reported issues with steam not being produced after six+ months (instructions on Bissell site explain how to clear the vents)
Does not handle vertical surfaces
No carpet glider for refreshing your carpets
No cooling tray to sit the mop on when you're done using it
Reviews and Ratings
The Bissell Steam Mop Select has strong ratings on a number of online retail sites. The only consistent – yet still infrequent – issue seems to do with occasional blocking of the steam vents. Consumers like that it's lightweight and easy to use. They're also impressed with how little water it uses for cleaning and how quickly the floors dry afterwards.
Price of the Bissell Steam Mop Select Titanium
I think the Bissell Steam Mop Select Titanium 94E9T is a great steam mop with a very affordable price considering the strength of the steam and the sturdy build. To me, it's very similar to the Hoover TwinTank in how it operates and in performance but about $30 cheaper. The key differences are that the 94E9T's cord is shorter, there's no twin tank (so it can't use a chemical cleaner), it has no carpet glider, no cooling tray and no filter so that's where the $30 savings comes into play.
The 94E9T is the newer version of Bissell's 80K6 which is still available through some online retailers. The difference between the two is that the 80K6 has a rectangular mop head and mop pads that completely wrap around the top and bottom of the head so that you can flip the head and use both sides in one mopping session. It has the same 13.4 inch cleaning path and the mop head is much shorter – only a couple of inches tall – but the pads do not include Microban. If you have very low clearance between your kitchen cabinets and floors or need the rectangular mop head shape then you might take a look at the older model as it's about the same price.
Otherwise, the Titanium 94E9T will get the job done, has a very low complaint rate, good performance, and a nice price.

My Overall Opinion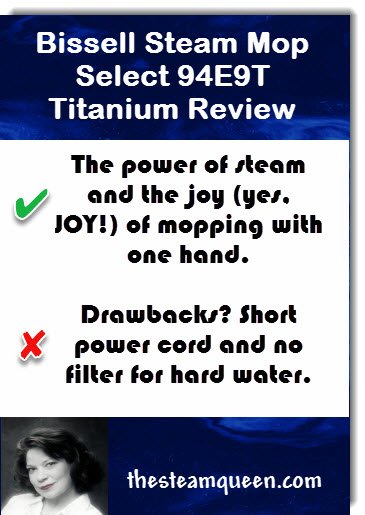 I like this steam mop and think it does a very good job. Whether it's the right mop for you or not comes down to these three points: the short power cord, the lack of a filter, and your preference for the shape of the mop head. If you have a small area to mop and don't mind maybe having to unplug and plug into a new outlet a couple of times while you're mopping then this is a very affordable option for a basic steam mop that will clean hard floor surfaces without any chemical cleaners.
If you have extremely hard water the fact that there's no filter in this one could mean faster clogging of vents and more time maintaining it to keep it operating and/or more expense in distilled water.
If those things don't impact you then I think you'll be happy with the value you get from the 94E9T steam mop.