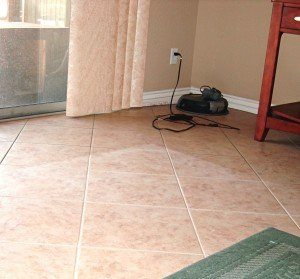 My first thought was that I shouldn't have moved the carpet. I'd forgotten what my tile grout was supposed to look like but as soon as I moved my kitchen table and the throw rug it sits on, there it was – clearly revealed in the Arizona sun shining through the nearby patio doors. What a pretty color!
Too bad that's not what the rest of my tile floors look like. See that outline in the image showing where the rug had been sitting? The difference is shocking – and mortifying. Even the tile looks a different color.

It's not like I NEVER mop. In fact, I sweep, mop and vacuum my tile floors regularly.
Before we lived in the house we own now, we had a house that had only carpet and linoleum. That's unusual for newer homes in the area but not for the older ones. Linoleum was probably a very cheap option the builder offered at the time that subdivision was built up.
Our next door neighbors had redone all the floors in their main living spaces with a very pale tile. One day, I stopped by to drop something off and I found them both on their hands and knees, small brushes in their hands, scrubbing the grout in between the tiles.
I hadn't lived in a house with tile flooring before so I didn't realize you had to clean the grout, nor what a nasty task that can be. Later they told me that it took the both of them a total of three days to get to all the grout. I remember thinking I'd rather have teeth pulled.
I Guess My Grout is Not Supposed to Be Black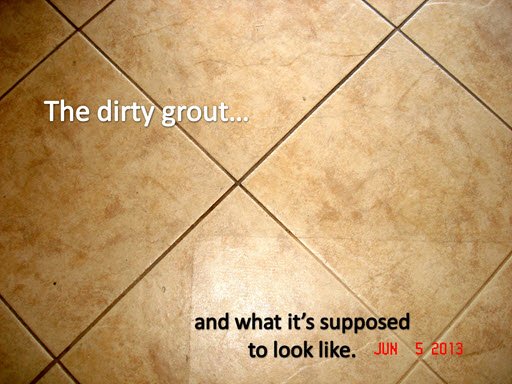 Just a year later and my husband and I would sell our house to build a new one in a great section of Glendale, Arizona. That memory of my neighbors and their grout must have been lost along the way because the first thing my husband and I decided on was which rooms would have tile and which wouldn't. The kitchen, bathrooms, main floor stairways, laundry room, and entry way are all tiled with beige stone and cream grout. It's probably between 1000 and 1500 square feet of tile all together.
I love the look of my home. The walls, the floors, and the furniture are all done in shades of brown. It's certainly very "desert" themed and I find it very soothing for me, personally. Obviously, my eyes have grown accustomed over the years to what appeared to be subtle signs of aging.
We've been in the house seven years now and while I've moved that kitchen rug once or twice before, I don't recall the dirty grout standing out quite as much. Of course, I was purposefully looking for the difference today in light of this post for the site and I guess I found what I expected. It's time for some scrubbing.
Mopping Alone Won't Help Grout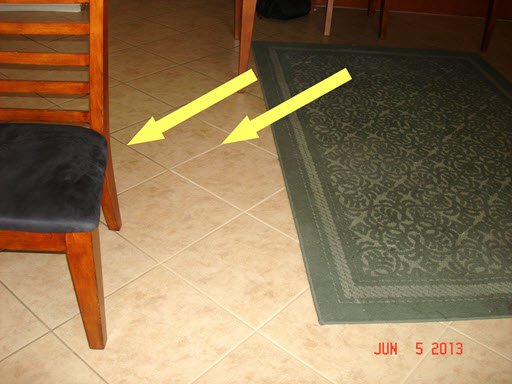 After using a regular mop, the line of dirt outlining where the carpet had been is gone but the grout isn't any cleaner in the area not protected by the carpet. In fact, there's a very slight, barely visible difference between the color of the tile that was under the rug and the tile that wasn't between the two arrows in the image above. The arrows highlight the clean and dirty grout areas.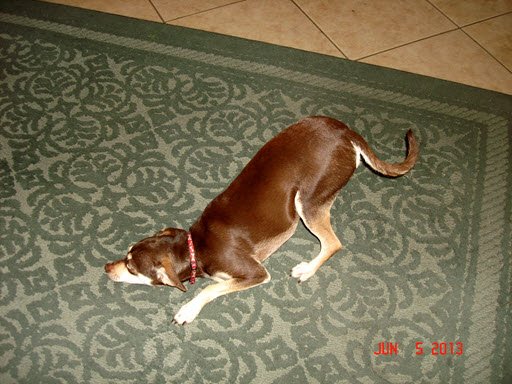 I know where the dirt comes from. All the bare feet, shoes, socks, dog paws, food droppings, dust and spilled drinks have left their mark. Between my husband and I, our three boys (ages 9, 15, and 19), Rocky (the family Chihuahua), parties, and overnight guests these floors see a lot of traffic.
My tile areas are the most walked on floors in the house – although Rocky appears to be indicating he prefers the carpet.
Product Reviews and Cleaning Tips Coming Soon
However, I'm not getting to the grout today. There's no way I'm getting on my hands and knees to scrub it. The whole purpose of this site is to explore better ways to clean my floors that are faster, easier, and more effective. Specifically, I intend to look at steam mops and other house cleaning tools that use steam to remove dirt, clean grout, and kill germs.
New posts will be a mix of product reviews, tips, and helpful guides on selecting the right tools for these jobs in your own home.
Rather than tackle the grout at the moment, I'm going to join my son in the pool for an evening swim. A much better use of my time.